Compact, Cost saving single-function productivity
The Epson C Series WorkForce Pro WF-C5290 features the next generation of the heat-free PrecisionCore inkjet printing technology. This compact device features an innovative Replaceable Ink Pack System (RIPS) to minimise interventions. The long-life inks also enables you to reduce printing costs – up to 62% percent lower colour cost per page compared with colour laser printers in its class1.
KEY FEATURES & BENEFITS
Powered by heat-free PrecisionCore™

 

– the next-generation of inkjet printing technology, and Epson's innovative Replaceable Ink Pack System

Easy on your budget

 

– up to 62% percent lower colour cost per page compared with laser1

Productive workspace

 

– compact footprint for a streamlined, efficient workstation

Blazing fast print speeds

 

– 0 second warm-up time — 24 ppm (black/colour) ISO†; plus fast first page out

Minimise your interventions

 

– Epson's Replaceable Ink Pack System lets you print up to 10,000 mono and 5,000 colour pages without changing the ink2; up to 830 sheets paper capacity with the optional second paper tray

Enabled for remote printer data collection

 

– compatible with MPS software solutions from PrintFleet®, ECi (FMAudit®) and others

Reduce your impact

 

– benefit from energy-efficient consumption

Professional-quality results to make your business look its best

 

– ultra-sharp text and brilliant colours on a wide variety of media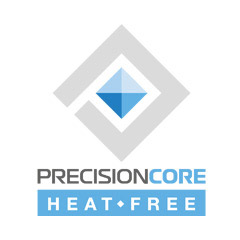 PRECISIONCORE TECHNOLOGY
Introducing heat-free PrecisionCore, the next generation of printing technology. From professional and industrial-level printers to your desktop inkjet, this groundbreaking technology delivers fast printing with superior quality results. A truly innovative system, heat-free PrecisionCore features Epson's advanced thin-film piezoelectric (TFP) elements, which are produced via the MEMS manufacturing process, based on semiconductor micro-fabrication techniques. At the core of this proprietary technology is the PrecisionCore MicroTFP print chip, a digital chip that does not use heat to eject ink and prints at the micron level — 1/100th the size of a human hair. It's this extraordinary focus on accuracy and detail that enables PrecisionCore to deliver revolutionary results, and no heat also means less power consumption, fewer consumables and less intervention, which saves you time and money.
Lowest colour cost per page in its class
Save up to 62% on printing costs compared with colour laser1
Why should you settle for mono prints when you can print in colour? This WorkForce Pro printer with heat-free PrecisionCore technology on-board, delivers outstanding results at a fraction of the cost of colour laser. You can print sales and marketing collateral in-house and on-demand, rather than buying in bulk, and spending extra time and money at the local copy shop. Print more with high capacity ink cartridges that last up to 10,000 black pages, and colour yields of up to 5,000 pages2
Save energy, save money
The WorkForce Pro WF-C5290 includes features such automatic, two-sided printing whereby you can save up to 50% on paper supply. In addition both models enable significant energy reduction by using up to 85% less power than laser printers3. In most cases the energy used by a laser printer, whilst in "Ready" mode, still uses more energy than an Epson device whilst printing.
Exceptional, best-in-class Colour Quality
Higher colour resolution vs colour laser printers
If you wish to buy a colour printer to promote your business, no matter what line of business, Epson's exceptional colour print quality will ensure proposals and marketing collateral are represented in the best possible light.
Packing a greater number of nozzles into a smaller surface area, this high-resolution inkjet printhead, along with heat-free PrecisionCore technology, gives you ultra-sharp text, as well as stunning graphics and images - all with smooth gradations on both plain and specialty paper. Comparing to a laser device at 600dpi, these devices can deliver 16 times the quality of document. Perfectly suited to business printing requirements.
Extremely durable prints
Heat-free PrecisionCore technology enables the use of an advanced ink formulation, DURABrite® Ultra Ink. This innovative, pigment based, 4-colour ink set, along with Epson's heat-free PrecisionCore printing technology, delivers smudge, fade and water-resistant prints that are highlighter friendly too.

Productivity and Efficiency
Businesses of all shapes and sizes are always looking to be more productive (do more with less) or more efficient (do it right the first time). The new Epson WorkForce Pro C Series provides a mobility platform to keep an office on the move, and features that provide a host of productivity and efficiency benefits.
The ultimate in wireless and network printing
Using the WorkForce Pro C Series devices has never been easier — whether in the office, on the road or even across the globe. Connect to your wireless network in a snap — even the latest Wi-Fi standard, 802.11 n is supported. No network? No problem. Wi-Fi Direct means no router is required3 enabling users to easily connect to wireless networks in seconds, allowing printing from virtually any room in the office.
Wired networking
Built-in Ethernet makes sharing the printer on a network quick and easy.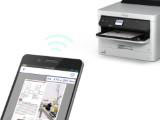 Productivity anytime, anywhere
Easily print from your tablet or smartphone using Epson Connect™. Supports Android™, Apple® iPad and iPhone, Chromebook™, Mac® and Windows® devices. Wirelessly print documents, photos, emails and web pages whether at the office or on the go.
Print from your iPad or iPhone
Apple® AirPrint™ makes it simple to print emails, photos, web pages and documents straight from your iPad or iPhone. There's no software to download, no drivers to install and no cables to connect. Your Apple device will automatically connect to the printer.
Share your Google® content
Print on the go from a smartphone or tablet using Google Cloud Print™ with your Gmail™ or Google Drive™ account. Plus, print from your Chromebook™ and Google Chrome™ without installing drivers or connecting cables. It's now even easier to share your Google content from anywhere.
Fast print speeds
Heat-free PrecisionCore technology ensures each nozzle on the print head delivers up to 50,000 droplets per second. The result? Fast print speeds that rival those of more expensive colour lasers. The WorkForce Pro WF-C5290 delivers professional quality, two-sided colour prints at super-fast print speeds, making it easy to increase productivity, without compromising quality. Featuring print speeds of up to 24 ppm† (mono) and 24 ppm† (colour), any project can be handled with speed and ease.
Ultra-efficient paper handling
The WorkForce Pro WF-C5290 boasts a total input capacity of 330 sheets, including an 80-page rear tray for envelopes, labels and specialty media for efficient paper handling. An optional 500 sheet paper tray is available to increase paper capacity to 830 pages if required.
Change supplies less often
With the extra-large, high capacity replacement 938XL Black ink supply, users can print up to 10,000 pages without changing the ink packs. Also available are a range of other ink supply bags to suit your customers monthly print volume.
---
† Black and color print speeds are measured in accordance with ISO/IEC 24734. Actual print times will vary based on system configuration, software, and page complexity. See www.epson.com.au/printspeed for details.
1Save up to 62% on colour costs: comparison of 24 A4 colour mfps up to 29ppm in the Australia marketplace as at April 2018
2The device ships with an initial ink starter pack. Replacement ink packs last up to 10,000 pages for mono, and 5,000 pages for colour. Yields will vary according to page coverage, device usage and other factors
3Epson PrecisionCore devices do not use a fuser nor heat in the printing process, as a result are up to 85% more energy efficient compared with laser printers. No fuser also eliminates the need to warm-up, saving up to 30 seconds in actual print time from sleep mode